Minimalist Social Media Canva Templates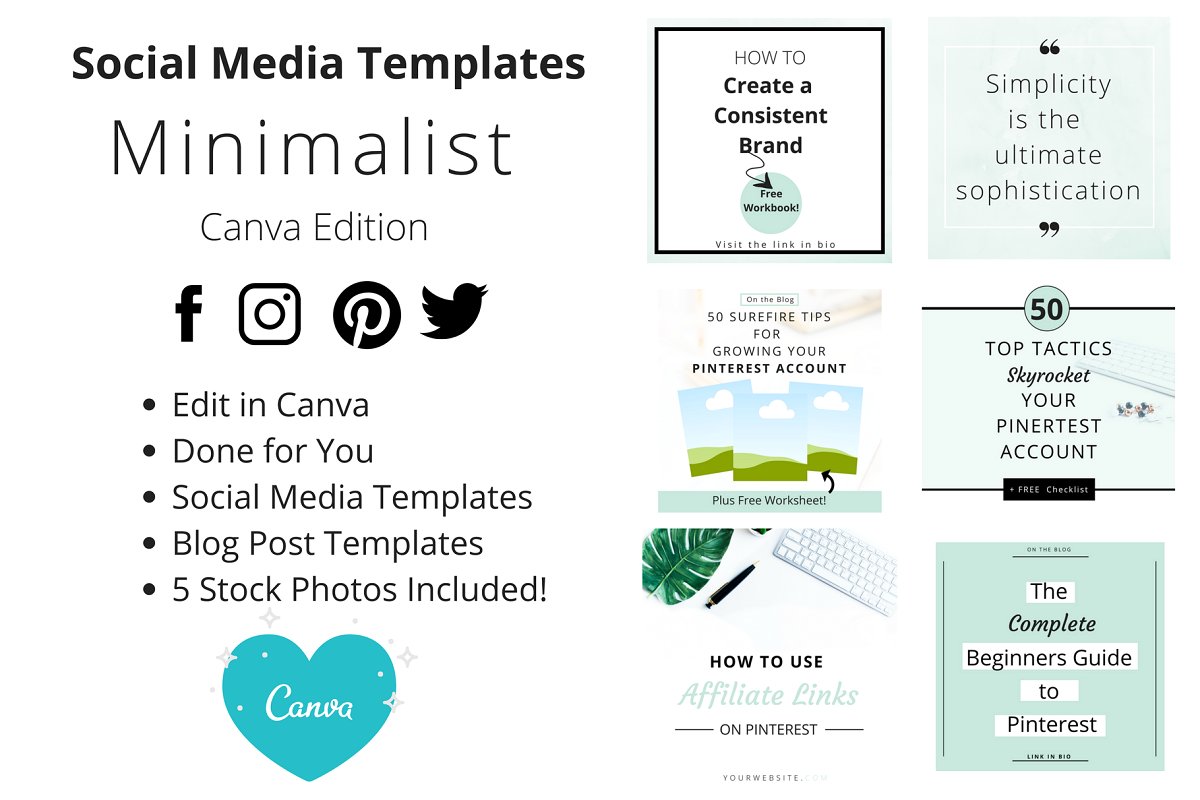 Minimalist Social Media Canva Templates
DETAILS
Are you ready to make your brand consistent! She Bold Presents a Set of 10 Canva Templates for each Social Media(Facebook, Instagram, Blog Post, Pinterest, Twitter) with 10 different variations that allow you to take the stress off of creating a consistent brand throughout your social media platforms.
The templates will not only make it easy for you to easily create content for your brand but it will also save time so you can focus on the things you are an expert in! Elevate your presence on the internet, develop a share-worthy brand, and grow your blog and business in less than 5 minutes a day!
These templates are created in Canva making it easy for you to transform them into your own brand using your own colors, fonts, and photos. I also provide you with 5 stock photos that any brand can use because of its simple design. Transform them how you like by cropping, zooming, flipping them, even use a filter over them.
My goal with these templates is to help YOU save time so that you can focus on what you truly love, your passion, your brand!
What's Included!
A downloadable zip file (you'll need to extract the file onto your own desktop)
Pinterest Template (10 of each)

Instagram Template (10 of each )

Blog Post template (10 of each)

Facebook Template(10 of each)

Twitter Template (10 of each)
Inside that zip file is:
Instructions (links to each template)

Your 5 Stock Photos

A Coupon for more Stock Photos if need ;)

FREQUENTLY ASKED QUESTIONS
Are the photos in the templates free to use? Yes! The template pack includes 5 stock photos from She Bold Stock Library that you can use in your templates and anywhere on the internet!

Who are these templates for? These templates are for any one who wants to develop a consistent brand and create content quickly with a few simple clicks. From entrepreneurs, bloggers, to business owners looking for a low cost, low budget way to create gorgeous content for their brand.

Do I need to buy a special software like Photoshop to use these templates? Of Course not! All you need is a FREE CANVA account and you are good to go! Canva is so easy to use!

Do I need to be an expert in graphic design to use these templates? Nope! These templates are for beginners, intermediate or experts. You do not need a degree to know how use these templates. I include a video to walk you through how to use the templates.

So what will happen once I pay? When you pay a download will immediately pop. Extract the files and then check out the first document that says Instructions this will include the links to the templates in canva. In that same file you'll also see 5 stock photos to use too. Open Canva, read the instructions, make a copy, and you are on your way to steady branding!

How do I extract files from a zipped folder? To unzip all the contents of the zipped folder, press and hold (or right-click) the folder, select Extract All, and then follow the instructions.
Got any more questions leave them in the comments below and I will answer them! Thank you and I hope you enjoy the templates! xoxo- Jasmine :)
How can I unzip product files?
PC: To extract a single file or folder, double-click the compressed folder to open it. Then, drag the file or folder from the compressed folder to a new location. To extract the entire contents of the compressed folder, right-click the folder, click Extract All, and then follow the instructions.
Mac: Double click the .zip file, then search for the product folder or product file.